Paris Photo Café
PORTRAITS, COUPLES, WEDDINGS AND OTHER PHOTOGRAPHY SERVICES
About us
Welcome to Paris Photo Café, where we bring you an exceptional photo shoot experience in the breathtaking city of Paris. As a dedicated team of highly skilled photographers, we are committed to delivering top-notch photography services tailored to your needs. We operate in Paris, the enchanting region of Île-de-France and extend our services to stunning destinations throughout the South of France and across Europe. Join us, and let us capture the beauty and magic of your moments through our lens.
Learn more
Our services
Allow us to create incredible couples' photos that will forever encapsulate your love story in the City of Love.
We believe that every proposal deserves to be celebrated in a truly extraordinary manner. Make your proposal unforgettable with our and iconic photography.
Whether you're eloping or celebrating your wedding day in Paris, trust us to capture every cherished moment. Forever Starts in Paris!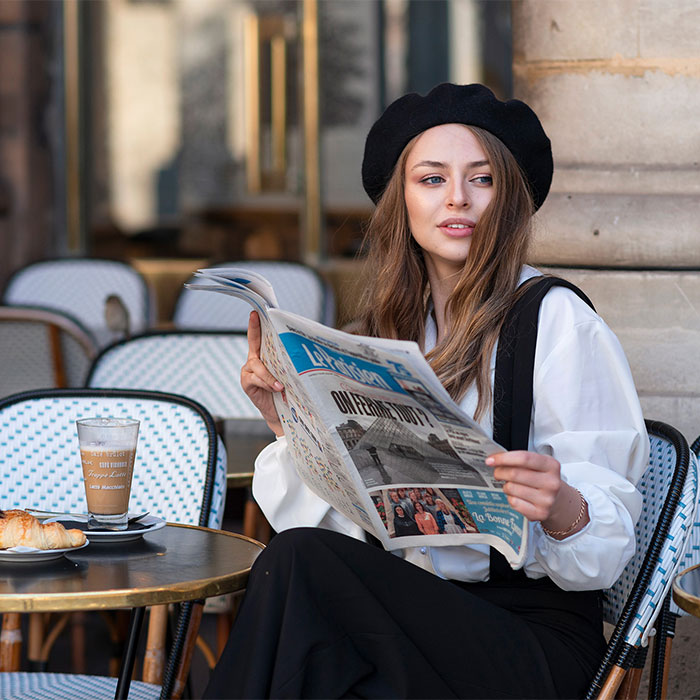 In the digital era, building a strong brand and corporate image is crucial. Let us help you convey your brand's message through high-quality photography.
For business owners, entrepreneurs, and individuals seeking lifestyle photos and solo portraits, we offer tailored photo shoots that showcase your unique personality and personal branding.
Celebrate your family's love and bond with a memorable photo shoot in Paris. Preserve precious moments with kids and family photography.
Testimonials
Victor Mirzian
2023-08-15
Had such a wonderful and amazing experience with Bogdan and his team. Made our engagement shoot in Paris nothing short of brilliant. Highly recommend Paris Photo Café and their professional services.
Bogdan is a very talented photographer! He captured our first wedding anniversary photos so remarkably! He made our Paris dreams come true by capturing our love in the most perfect of ways! He is friendly and easy to work with! Thank you so much Paris Photo Café!
Bogdan was amazing, captured exactly the vision I was looking for in my engagement shoot. Also quick and flexible to book! I definitely recommend Bogdan for anyone looking for a talented photographer in Paris. He knew all the right photo spots and angles. It was hard to filter through and select my favorites because he exceeded my expectations!!! This is a forever memory and the best souvenir you could get in a beautiful city like Paris!!! Thank you so so much Bogdan!!
Amrithal Bachra
2023-05-15
We had a great experience with Dan for a photoshoot in Paris. He gave us great direction, made us feel very comfortable in front of the lens, and took his time to make sure we had a great experience. I can't recommend Dan highly enough and will definitely be using him in the future!
Bogdan is absolutely PHENOMENAL and has such good prices you are definitely getting a STEAL for his quality of work and prices. We originally booked him in 2020 for our engagement shoot before covid happened and he was so accommodating and issued us a refund immediately. Fast forward 3 years later he was more than happy to book our family shoot and he did an amazing job at making us feel comfortable and telling us how to pose. We can't wait to go back to Paris just to shoot with him again. MWAH!
Jason Kontomitras
2023-04-22
Absolutely amazing people that were incredible to work with and we're easy to get in touch with. Olha was great and we will cherish the photographs she took for ever. I interviewed a lot of photographers, but know I made the right choice and highly recommend them to anyone.
Bogdan was an amazing photographer not only he can guide you through the whole session, he also have recommendations of best place and best time to take a pic in Paris. He is really open to our request, and most importantly we are happy to work with him and of course with the photo results! wish to work with you again in th future! ❤️❤️ ps: he also can give you food recommendation in Paris 🤣
There is nothing wrong with them, they were really kind and nice and tolerant and really fun, you can really trust them I traveled from my country to Paris and I arrived with fear but they helped me with everything, even in the weather to coordinate it at the best possible time, really champions thank you for everything and also the price is really normal thank you very much To you ❤️❤️❤️❤️❤️
Catherine BLANCHARD
2022-09-08
It is amazing, yes absolutely it is better than other, Bogdan is absolute experience photographer. Highly recommended.
Хочу выразить благодарность фотографу Богдану! Богдан - талантливейший фотограф и профессионал высокого класса. Больше всего мне понравилась атмосфера, которую своим непринужденным, позитивным общением создаёт Богдан во время съёмки. Благодаря советам в постановке, позировании, снимки получаются натуральными, живыми. Обработанные фотографии мы получили очень быстро! Надеюсь с каждым приездом в Париж, я и моя семья, сможем попасть в объектив Богдана:) Желаю творческих успехов и благодарных клиентов!
We Are Available for Booking
Leave your contact information, and we will promptly get in touch with you
Book Us